---
Nursing Admissions 2023: A Path to a Fulfilling Career
Nursing admissions in 2023, including BS nursing admission 2023 and BSN admission 2023, are set to open new doors to a noble and rewarding profession. Understanding the significance of nursing and the diverse opportunities it offers in Pakistan's healthcare landscape, both in government nursing admission 2023 and the private sector, is crucial.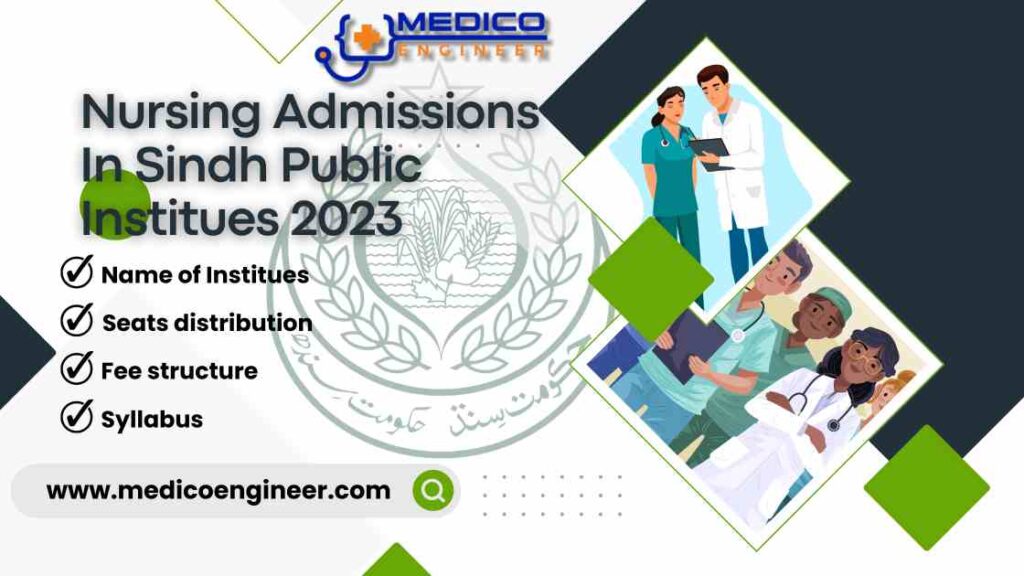 What is BS or BSN Nursing?
Nursing, often referred to as the backbone of the healthcare system, is a noble profession that requires dedication, compassion, and skill. As we look forward to nursing admission 2023, it's essential to understand the significance of this field and the opportunities it offers in Pakistan, including nursing admission 2023 in government hospitals.
Eligibility Criteria of BS Nursing Degree Program
Matric Science (Physics, Chemistry & Biology as compulsory subjects)
FSc (Pre-Medical) with 50% marks minimum (Physics, Chemistry & Biology as compulsory subjects)
Age Limit: (14 – 35 Years)
Gender Ration: 50% Male and 50% Female
Difference Between BSN and BSC nursing:
The main difference between a BSN (Bachelor of Science in Nursing) and a BSc Nursing (Bachelor of Science in Nursing) is primarily related to terminology and nomenclature. Depending on the country and educational system, the name of the nursing degree may vary, but the educational content and outcomes are often similar. However, it's important to note that the specific curriculum and requirements may vary between institutions and regions. In simple words, we can say both are similar.
Difference between Post-RN BSN and BSN generic:
The main differences between Post-RN BSN (Bachelor of Science in Nursing) and BSN Generic (also known as traditional BSN) programs are related to the target audience and the educational path:
Post-RN BSN (Bachelor of Science in Nursing):
Target Audience: Post-RN BSN programs are designed for individuals who are already registered nurses (RNs) and hold an RN license. These programs are intended for RNs who want to further their education and earn a bachelor's degree in nursing.
Educational Path: Students in Post-RN BSN programs typically have prior nursing education and clinical experience as RNs. They enter the program with an associate degree or diploma in nursing and complete additional coursework to earn a BSN.
Curriculum: Post-RN BSN programs build upon the foundational knowledge and clinical skills that RNs have acquired during their initial nursing education. The curriculum focuses on advanced nursing topics, leadership, research, and community health.
BSN Generic (Traditional BSN):
Target Audience: BSN Generic programs are designed for individuals who are new to the field of nursing and do not yet hold a nursing license. These programs are intended for students who are starting their nursing education from scratch.
Educational Path: Students in BSN Generic programs begin their nursing education without prior nursing experience. They complete a four-year undergraduate BSN program, which includes both classroom instruction and clinical rotations.
Curriculum: BSN Generic programs provide a comprehensive education in nursing, covering foundational courses in anatomy, physiology, pharmacology, and nursing theory. Students gain clinical experience in various healthcare settings as part of their training.
In summary, the primary difference between Post-RN BSN and BSN Generic programs is the educational path and the target audience. Post-RN BSN programs are for registered nurses seeking to advance their education and earn a BSN degree, while BSN Generic programs are for individuals new to nursing who wish to complete a full four-year BSN program to become registered nurses. Both programs contribute to the development of well-rounded and educated nursing professionals.
Why to Choose Nursing as a Career ?
Choosing nursing as a career in Pakistan can be a highly rewarding and impactful decision for several reasons:
Growing Demand: The demand for healthcare services is continuously increasing in Pakistan. With a growing population and an aging demographic, there is a consistent need for skilled healthcare professionals, including nurses, to provide essential care and support.
Job Stability: Nursing offers job stability and security. As the healthcare sector expands, so do employment opportunities for nurses. It is a profession that is less susceptible to economic fluctuations compared to some other fields.
Humanitarian Impact: Nursing is a profession that directly contributes to the well-being of individuals and communities. Nurses play a vital role in patient care, recovery, and promoting overall health, making a significant humanitarian impact on society.
Diverse Career Paths: Nursing offers a wide range of career paths and specializations. Registered nurses (RNs) can work in various settings, such as hospitals, clinics, schools, research institutions, and even as independent practitioners.
Global Opportunities: Nursing is a globally recognized profession. Pakistani nurses have opportunities to work abroad, offering them the chance to gain international experience and potentially earn higher salaries.
Personal Fulfillment: Nursing provides a sense of personal fulfillment and purpose. It involves helping others during their times of need and making a positive difference in their lives, which can be deeply satisfying.
Professional Development: The nursing field encourages continuous learning and professional development. There are numerous opportunities for nurses to advance their education, pursue higher degrees, and specialize in areas of interest.
Respected Profession: Nursing is a respected profession in Pakistan and around the world. Nurses are highly regarded for their expertise, compassion, and dedication to patient care.
Financial Rewards: While nursing is not solely driven by financial rewards, it offers competitive salaries and benefits, which can improve one's quality of life and financial stability.
Sense of Community: Nurses often work closely with a team of healthcare professionals, fostering a strong sense of camaraderie and a feeling of being part of a healthcare community that strives to improve people's lives.
In summary, choosing nursing as a career in Pakistan can lead to a fulfilling and meaningful profession with diverse opportunities for personal and professional growth, all while making a significant contribution to the healthcare system and society at large.
Join Medico Engineer Pre-Medical Groups For Regular upadtes:
Join our WhatsApp group to get regular updates about free tests. We conduct free mega tests, free chapter-wise tests, study materials, and much more. Medico Engineer is a free online self-assessment test conducting platform for XI & XII (Both pre-engineering and Pre-medical) , MDCAT and ECAT students. From now on, we will share free test links in our group.Note: Our group is private, and no participant can see other participants' information, including their WhatsApp number.
Scope in Pakistan: Government and Private Sectors
In Pakistan, the demand for qualified nurses is steadily increasing. In the government sector, government nursing admission 2023 paves the way for nurses to serve in public hospitals, clinics, and health centers. The government offers competitive salary packages based on the Basic Pay Scale (BPS) grade, with opportunities for career progression and promotions. This makes government nursing admission 2023 a highly sought-after option.
Private healthcare facilities in Pakistan also provide lucrative career options for nurses. Private hospitals, nursing homes, and international organizations often seek well-trained nursing professionals. The private sector offers competitive salaries and benefits, making it an attractive option for nursing graduates.
Foreign Opportunities for Undergraduate Nursing Students:
Nursing education in Pakistan is highly regarded internationally, including Stipendium Hungaricum Hungary BSN nursing Scholarship 2023 For more Info about this scholarship click here. This opens up opportunities for undergraduate nursing students to pursue further studies or work abroad. Many countries, including the United States, Canada, Australia, and the United Kingdom, welcome international nurses. These opportunities not only offer higher earning potential but also exposure to diverse healthcare systems and cultures.
Salaries and BPS Grade
Salaries for nurses in Pakistan vary based on their experience, location, and the sector they work. BS nursing admission students typically start at Grade 16 on Clinical side and 17 grade in the Teaching side in government hospitals or institutes. With experience and additional qualifications, nurses can progress to higher BPS grades, leading to increased salaries and benefits.
In the private sector, salaries are often competitive and depend on the reputation and scale of the healthcare facility. Nurses with specialized skills or certifications can command higher salaries.
In conclusion, nursing admissions in 2023, including government nursing application 2023, present an excellent opportunity for individuals who are passionate about healthcare. If you're considering a career in nursing, seize the opportunity and embark on a journey that will not only benefit you but also the health and well-being of countless others. Don't miss out on government nursing admission 2023 last date –We will update you about nursing admissions Follow our Facebook Page Medico Engineer
Government Nursing Institutes in Sindh Offering Merit and Self-Financed Seats:
Liaquat University of Medical and Health Sciences (LUMHS):
LUMHS is one of the premier institutions in Sindh that offers both merit-based and self-financed seats for nursing students. It is known for its high academic standards and state-of-the-art facilities. Within LUMHS, the People's Nursing School is an integral part of the institution that provides nursing seats to aspiring students. For fee structure, Seats Distribution, Expected date of entry test, Syllabus, past papers etc. Click: Everything About LUMHS Nursing Admission 2023
Dow University of Health Sciences:
Dow University is another prestigious institution in Sindh that provides opportunities for nursing aspirants. They offer a combination of merit-based and self-financed seats, ensuring accessibility to a wide range of students. For Fees Structure, Seats Distribution, Expected date of entry test , Syllabus, past papers etc Click: Everything About Dow Nursing Admission 2023
Jinnah Sindh Medical University (Jsmu) Nursing:
Jinnah Sindh Medical University is renowned for its nursing programs. They offer seats based on merit as well as self-financed options, accommodating students with varying financial backgrounds. For fee structure, Seats Distribution, Expected date of entry test, Syllabus, past papers, etc (A detailed Post will be added soon)
Directorate of Nursing Sindh Karachi (Through NTS):
The Directorate of Nursing Sindh Karachi conducts admissions through the National Testing Service (NTS), providing a transparent and merit-based selection process for nursing candidates across the province. For fee structure, Seats Distribution, Expected date of entry test, Syllabus, past papers, etc Detailed Post will be added soon. Follow Our facebook page (Medico Engineer) to recieve more updates
Sindh Institute of Urology and Transplantation (SIUT) Nursing:
SIUT is a specialized institution that offers nursing programs. They have a comprehensive approach to nursing education and provide options for both merit-based and self-financed seats. For fee structure, Seats Distribution, Expected date of entry test, Syllabus, past papers, etc Click here for more info
SMBB MEDICAL UNIVERSITY LARKANO Nursing:
SMBB Medical University Larkana has a tradition of offering nursing admissions each year. While admissions for 2023 have not commenced yet, the university consistently provides this opportunity to aspiring nursing students. The university takes pride in its commitment to delivering quality healthcare education and fostering a nurturing environment for future healthcare professionals. Aspiring candidates should stay tuned for upcoming announcements regarding the admission process, including requirements, application procedures, and important deadlines. This annual offering by SMBB Medical University Larkana continues to be a promising avenue for individuals aspiring to pursue a fulfilling career in nursing. For More Information (A detailed Post Will be Added soon)
These government institutes in Sindh not only offer quality nursing education but also ensure that students from diverse backgrounds have the opportunity to pursue their dreams in the field of nursing. Whether you aim for merit-based admissions or prefer the self-financed route, these institutions play a crucial role in shaping the future of nursing professionals in the region.
---